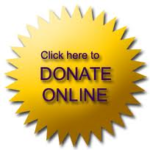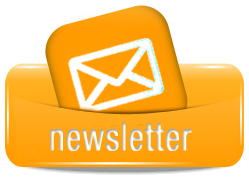 U.S.A. Donors can also give by check payable to:
SAMS-USA, PO Box 399, Ambridge, PA 15003. Memo: -
Diocese of Toliara
or
McGregor Support
Donna and I have been looking forward to this mission for the past 6 years or more. When we once again met Bishop Todd and Rev. Patsy at a New Wineskin's Conference, and then they visited our church and came to talk about their mission initiative, we knew we were being called for a visit to Madagascar. We are amazed about how the Lord has worked in our lives to make this possible from the beginning. When one tries too hard to make a mission trip come together, one knows it is not of the Lord. Looking back we know that this mission trip was orchestrated by Him for us.
There were several obstacles that were thrown in our way before we left, including a bout of Atrial Fibrillation that I (Kevin) experienced and had to be electrically cardioverted a week before leaving. Yet again the Lord took care of this and I left JFK in normal rhythm. Then when we did arrive in Madagascar the island was hit with the biggest Cyclone in 13 + years and we spent two days in the capital at a guest house before we could travel to Toliara (also known as Tulear). Dr. Zoe, who is the Malagasy doctor who would join in the clinics with us, was traveling to Toliara with her family by car from the capital. They also experienced some trials as her car broke down twice on the way, in the middle of nowhere. They had to hire military to stay with their car through the night and they walked to a safe place. Thankfully they were safe and the car was repaired, but they too were delayed in their arrival to Toliara.
Psalm 121 expressed comfort for us in the midst of this. From verse 7-8, "The Lord will keep you from evil; he will keep your life. The Lord will keep your going out and coming in from this time forth and forevermore". We both knew we were in for a life changing experience that even the evil one could not stop. This brings to mind my Rollo (talk) for Cursillo about 'Obstacles to Grace' years ago when the Lord first put mission on my heart.
On the long flight to Madagascar I sat and read another book that Rev. Patsy McGregor wrote entitled, "A Guest in God's World". The book is an excellent account of Rev. Patsy's and Bp. Todd's life in the mission field and the sacrifices they had to endure and the hardships of being in Madagascar.
In her book, Patsy points out several great thoughts:
Spend time listening to God
Allow God to take us places we might not otherwise consider
Trust God to call forth from us that which we do not yet realize is within us
Seek experiences rather than answers
Live eternal life as a present reality
These are all wonderful thoughts for living life with Christ especially on the Mission field when one must continually ask, "How can I serve the Lord, and what does He want me to do?"
When we arrived in the Capital, Antananarivo ("Tana") and got off the plane, we walked across the tarmac and the smells and warmth were all too familiar even though we have never been to Madagascar ("Mada") before. This felt similar to other countries we have visited. The same poverty, garbage strewn streets, blank faces and stares at each street corner. The same hustle and bustle in the streets with the chatter of foreign language in the background and poor filthy children at the car windows begging, some with babies on their hips. Within minutes as you look through the dirty car window you see the true reality of the starving world right in front of you, the same as if we were in Sudan, Haiti or any other third world country.
The same feelings well up inside me bringing me close to tears as in times past, asking the Lord, "How can I help these people? What can I offer in order to help this mass of poverty and illness that is before me?" I know the Lord has appointed people and objectives for this journey, and they will play out as the next few weeks unfold. I need to stop thinking and doing on "my time" and realize that we gave this time to Him and that is why we are here. Psalm 41 reminds us, "Blessed is the one who considers the poor! In the day of trouble the Lord will deliver him, the Lord protects him and keeps him alive." It is reassuring that we can give this up to the Lord and it will all work out just as the fruit in planning of this trip revealed, in the first place. It also occurred to us that Lent was the perfect time to be serving others and perhaps be stretched a little past our comfort zone.
Finally after 48 hours of torrential rain and high winds, and praying that the tin roof didn't blow off, we were able to fly to Toliara and were met by Bishop Todd's joyful face. Toliara is the 5th largest city in the country but has limited industry, and the poverty is starkly apparent, even more than it was in the Capital. Bp Todd and Patsy started with 3 churches in 2006 when they arrived and their goal was to plant 20 new churches in 10 years. They have established 80 churches in 10 years in a diocese that is the size of Florida. It takes 6 days to travel through the diocese. Unfortunately, the ratio is only one priest for 10 churches and transportation is mostly by foot or bicycle. The Diocese of Toliara has 1.5 million people who are "Food Insecure." This means they do not know where their next meal is coming from, which became very apparent when examining the children and the elderly in the medical clinics.
One notices the convergence of Asian and African cultures here in Madagascar. Most travel by foot or 'pousse-poussey' which is similar to a rickshaw from the Asian culture, but more often powered by a bicycle. The capital is far too hilly for this type of transportation. The streets are absolutely filled with people moving about. I liken it to some sort of video game with a multitude of moving disturbances one has to avoid while traveling along.
When asked what people do to make a living, we were told that each person does whatever they can in order to make enough money to purchase some food for each day. All along the sides of the road are tiny shelters that contain those efforts. Some however just spread material on the ground and show their offerings of fruits or vegetables. Many foods are offered this way, as well as bicycle repair, used clothing and many other items for sale. The poverty seems to effect the majority of the people and it is overwhelming to consider having some positive effect in this extreme poverty, from our small efforts. But with God, all things are possible.
We traveled to five different locations for the clinics, the first being the most remote from the city called Ambohimahavelona. The journey was long, traveling along twisting dirt paths with excessive potholes to avoid at all cost. The remote village worked diligently to provide one small mud building with two rooms for the clinic. The medical providers were in one room and the pharmacy / dispensary was in the other. The prayer team was on the porch anointing and praying for those who would then continue inside to the doctor. When we arrived, it appeared that there was a large group of people already gathered under the large tree for shade. Instructions were given by Bishop Todd in his happy, light-hearted manner and the day began with community prayer.
Dr. Zoe, the Malagasy doctor was very knowledgeable and took time to explain different medical illnesses that we don't see in the United States. The medicines that we had with us were somewhat limited. The Sisters gave out the medications and gave injections and did the blood tests. There is a significant amount of hypertension, stroke and diabetes. It was apparent that in many cases illnesses are treated with naturopathic medicine. A leaf from a tree is used for hypertension and a seed extract is used to lower blood sugar in Type II Diabetics. In the end, over 200 patients were seen here with the outcome that still many people had to be turned away. We left much later than we had planned and had to maneuver the difficult roadway in darkness.
The successive clinics were held in locations around the city of Toliara including the Cathedral. Many of the patients, both young and old had diseases that have progressed well past the available treatments. Many needed diagnostics that just are not available in the local area and people cannot travel to the capital nor could they afford to, so they suffer. We saw mothers with malnourished children with no social support systems to obtain food or formula for their babies, so they are fed a rice gruel that has minimal nutritional value. We witnessed children who were 1-2 years old, not yet walking with flaccid extremities and could hardly keep their head up to nurse due to malnutrition. Another child was seen who had a seizure disorder due to having parasites which had migrated to the brain. The patient is treated for the seizures but the brain damage has been done and the condition only worsens. Again it comes to one's mind, "Lord what can I do for these people?"
We offer what medications we have and pray for the Almighty to heal them. The Malagasy people, as a population are in the same situation across the diocese. Their faith gives them hope for the future. Perhaps God's ultimate plan for us is a ministry of presence. We walk alongside our brothers and sisters assuring them that their toil is remembered by us, we have not forgotten them; they remain on our hearts. "Faith is the assurance of things hoped for and the conviction of things not seen," (Hebrews11:1) so we remain hopeful.
There is a community of hope, set in the midst of deep darkness and despair, severe poverty and starvation. This rather small community of deep faith and hope is referred to as "Miaraka Community". It is a community which has been planted by Bp. Todd and Rev. Patsy McGregor as they planted this new diocese of Toliara.
A beautiful Cathedral has been constructed within this compound which is called the "Gathering Place." Within the compound is also the Diocesan Office which has an area for meetings and the Bishop's chapel. Rev. Patsy has her office in another building which is shared with rooms for teaching Evangelists. They have a two year program which they have developed to train Evangelists. After the 2 years, they go out to support the churches with no Priest. They live together in a dorm-like situation while in training. Every morning at the break of day there are morning devotions held inside the Cathedral. They begin with 10 minutes of singing, 10 minutes of Scripture reading, 10 minutes of intercessions and prayers. That's how each day began, centered in Christ and in community all bathed in prayer.
In the evening, one may find the evangelists outside cooking their own meals over charcoal and then singing or just enjoying being together. They have what they need right there on the compound as they grow in faith and in community.
The Bishop requires Seminary education for his Priests, so if any of them discern the call to the Priesthood, they need to go away to the Capital in the North, or to Kenya for Seminary Schooling. Other dioceses are sending people to them for their evangelist program. They are setting a wonderful example of how living in community and growing faith can be accomplished. A group of evangelists will graduate in May, so we can hold them in prayer to accomplish all that the Lord has in store for them. Many of them arrive with not more than an 8th grade education and with little hope. Things are changing in a positive way for them! Some of them are learning English as well, and have found solid direction for their lives in Christ's service.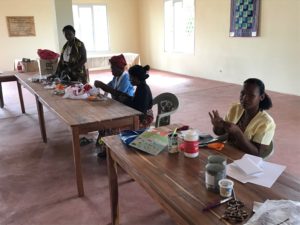 Rev. Patsy works with the women in developing ministries with them. Many are so impoverished they feel hopeless and feel that they have nothing to offer. Patsy has taught them how to make paper rolled beads, which are made into several different items: small purses, necklaces, earrings and key chains, among others. Nothing is wasted, yogurt cups and tops are transformed into items made by the women. They make hand-made cards, crochet small bags for phones, and the Days for Girls items as well (Feminine products).
This has given the women in the area a sense of purpose. They are learning to sew and use their creative minds and can now help others. Some have been accredited so that they can actually go out to train others. Rev. Patsy is beginning to take some of the items to tourist areas where the products can be sold.
In the midst of all of this, they are fellowshipping and growing as a community of faith providing hope where there had been only despair. One woman in the community is hoping to one day be a nurse midwife. One day she accidentally cut her finger nearly severing the tip off. Kevin needed to suture her wound. Rev. Patsy whispered in her ear in Malagasy to be courageous and that this is perhaps part of her training to be a mid-wife! She did beautifully and we pray her finger heals well and that she will one day fulfill the dream to become a nurse mid-wife in this community.
It's beautiful to see how lives can be changed by offering some hope, and by providing some training in even seemingly small ways. Part of this is simply a ministry of presence, they know that someone cares enough to walk alongside them and will continue to do so in a Christ-like manner. We will continue to pray for our brothers and sisters in the Diocese of Tulear and support them, especially Bishop Todd and Rev. Patsy as their Shepherds.
We also pray for the Lord to create a way to provide better health care to such a needy population by raising up community health care workers and perhaps future medical clinics to better serve the health needs of our Christian family in Southern Madagascar. We praise God, for His word never returns empty and His work is never done in vain.
In His Service,
Kevin & Rev. Donna Steckline – Christ Episcopal Church, Gilbertsville NY
Episcopal Diocese of Albany New York
QUICK MINISTRY UPDATE:
After a weather delay, missionaries Kevin and Donna Steckline arrived in Toliara about a week ago. The day after they arrived they traveled with the bishop, a team of evangelists, a local doctor, and two nuns to set up a clinic in a remote village. Over 200 patients were treated, prayed for, and annointed. They've been holding clinics most days since their arrival, with great success.
From Kevin and Donna: "All is well, feeling great and staying healthy and enjoying meeting and ministering to the Malagasy people. They are beautiful, kind and patient. So many things come to mind, I can't think of what to tell you! So I'll leave it at this. Just know your prayers are effective and appreciated."
Looking forward to sharing photos and stories of this precious time!
-People Reaching People
Rev Patsy writes from Toliara:
no flights again today. The Stecklines (who have arrived from USA to lead a medical mission) are still stuck in the capital Antananarivo, and are still unsure about the flight time tomorrow.
Dr. Zoe and her group, who were supposed to arrive tonight, are still 9+ hours away with a broken down car. They got it fixed and should be on their way tomorrow.
Medical Mission will take place on Saturday at the expected village. I am sure there will be many people waiting since they expected the group to also come on Friday.
There has been lots of wind but only sprinkles of rain in Toliara.
We have had a call from someone in Tamatave, where the Cat 4 cyclone hit badly, and it has been reported that 10 women from the Anglican Mothers' Union were killed. Thanks for keeping their families and the church in prayer.
Deacon Donna and Kevin Steckline arrived in Antananarivo safely and were due to fly out to Toliara today (Wednesday March 8th) to lead a medical mission in the Diocese, but all flights are canceled due to Cyclone Enawo which is hitting the northern part of Madagascar and Antananarivo. (For more info on the Cyclone see https://www.nasa.gov/feature/goddard/2017/enawo-southern-indian-ocean).
Thankfully Toliara is fine but this is the strongest storm to hit Madagascar in 13 years and massive amounts of rain are expected along with flooding, power outages and destruction of homes and roads etc.
Please pray for Madagascar and her people and that Donna and Kevin remain safe and get to Toliara as soon and possible!