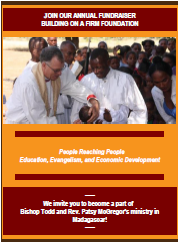 "Figure out what God is doing and go for it"

Recently I have been very busy visiting around the diocese and have been amazed at what God is doing and the team he is creating. It is clear that we are a large growing living organism rather than a small microorganism which we once were seven years ago. We are no longer 11 churches but nearly 50 worshipping communities. We are no longer 300 members but over 6,000 worshippers. We are no longer 7 staff but over 25 staff.
Over the last month, I visited numerous churches in four parishes and have been amazed at what God is doing. I have had the opportunity to visit Archdeacon Theodore at the cathedral parish. I
confirmed 103 candidates at the Cathedral complex. I was getting physically wiry just raising my hands and
calling the Holy Spirit to guide and direct each candidate. The parishioners just sang while I confirmed the candidates. But my spirit was encouraged and lifted up from the singing. I felt at times I was participating in a glimpse of what heaven will be like. They have now out grown the 200 seating capacity in the training center. They have about 600-800 members. The Confirmation service went on for four and ½ hours. I also had the opportunity recently to have all of my deans assist me the official ground breaking for the construction of our Cathedral. We hope to begin construction in September. We are trusting in the Lord that we can raise the remaining $80,000 to complete the project.
Two months before I visited another place call Ankilibe where we started a new church plant on the ocean just outside of Toliara. I went one Wednesday for a worship service. We had 150-200 gathering on the beach for a service. It seemed so natural to me sitting in a plastic chair while the others say on matts on the sand underneath a shaded tree.
Then I traveled two days to Mahabo parish where Rev. Victor serves as the first residential priest. He is doing an incredible job there. It is seen in the evidence of the parishioners paying for his monthly allowance of rice and the churches increasing in numbers. We dedicated a new piece of property in Miandrivazo and had four church confirmations.
Then I installed Rev. Lova as the new dean of Morondava. The church was packed with 300 people and the joyous service last three hours. It is becoming apparent that the Morondava and Mahabo parishes are moving forward towards being self-supporting and self-governing. It was also announced while I was there that the parish has found funds to start building a permanent church in Mangily.
I also visited the Sakaraha parish along with all of the clergy and dedicated St. Paul's Primary School in Mahaboboka. We had about 400-450 people in attendance. Rev. Hery is our new priest serving in the parish. I was amazed at how well the gathering went even though we started about 45 minutes late. This opening has ignited other Deaneries to consider having schools in the areas. But this would not have been possible if Ed McNamara had not come to Madagascar four years ago and saw a vision of starting a primary school in the Diocese of Toliara. He had the vision and shared this with his friends who then raised $20,000 to construct this three class room building. It was a great joy to have him and his grandson Gordon with us on this special occasion.
Last weekend I went out in the bush among the Mahafaly, where I placed a new evangelist (Evangelist Zefa) 18 months ago and the fellowship has grown from one church with three members when he started to five churches with over 700-800 worshipers. Last August, I baptized 221 (Rev. Noely baptized over 150 two months earlier) and last Saturday I baptized another 115 (Rev. Neoly had baptized 80 the previous two days) underneath a large shad tree with temporary benches placed into the dirt. On Sunday while fighting a serious tummy bug, confirmed 121 adults during the first confirmation in the Betioky area.
PRP and the Diocese of Toliara have formally signed an official MOU. PRP representative, Ed McNamara and I signed the document on May 17th. This MOU will lead to further partnership and cooperation among our organizations. This was historical moment for PRP because it has now moved beyond a partnership with just the McGregor's but also with the Diocese of Toliara.
PRP treasurer John Griffin visited the diocese in May to review the accounts and train some the staff on financial and administrative practices. This has been very helpful and encouraging for Mme. Florrette our administrator and Mme Mamy our treasurer.
These are just some highlights of what God is doing through our team in the Diocese of Toliara and with partners such as PRP. I can't figure it all out but what I do understand is that God is doing something and I want to be part of it. God has also placed some incredible people on our local team and in PRP who are seeing what God is doing and wanting to participate in it. So the moral of the story: figure out what God is doing and go for it!