News update: 2 July 2016
St Luke, Ankilifaly (next door to where Todd and Patsy first lived in the centre of Toliara) now has a nearly complete tower.  This will make it visible to the community.  Thanks be to God!
News update: 16 May 2016
The Diocese has applied to the U.S. and Australian embassies for grants to cover costs of work in the women's center in Toliara.  Today, two visitors came from the US Embassy, Carla Classic and Mr Mamisoa.  Please pray that they will approve this project.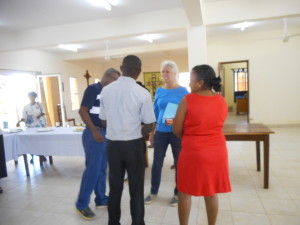 Consecration of Katedraly Santa Patrika
13 March 2016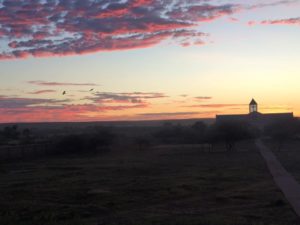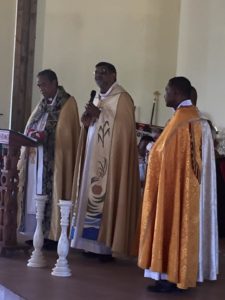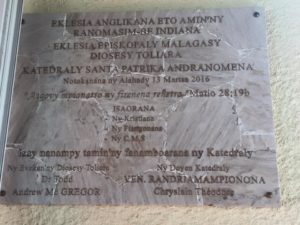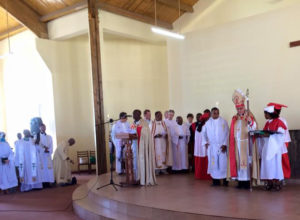 News update: 9 March 2016
May we all join with the people of the Diocese of Toliara, in celebrating the consecration of Saint Patrick's Cathedral, which will take place this coming Sunday, March 13. The preparations for this very special occasion are being undertaken by a Committee in Toliara.   Approximately 1000 guests are expected to attend, including representatives from the PRP Board; CMS UK; the Diocese of Canterbury; the Diocese of SE Florida; the Diocese of Albany; AMIA; ACIO; and other Bishops from FEEM in Madagascar.
There will be a special performance in Malagasy of Miaraka: A Time to Dance, the musical created collaboratively by Patsy McGregor and her friend Collette Maurel, on Saturday, March 12.
News update: 6 January 2016
Greetings to all!
It is so exciting to see the progress of the Women's Center – pictured below. As I mentioned to Bishop Todd, his great excitement may have been building St Patrick's Cathedral, but I get really excited about the building of the Women's Center. God is on the move and it is great to be a part of it!
Please join us in praying that God will provide the remaining $14,000 to complete the project.
God bless, Patsy+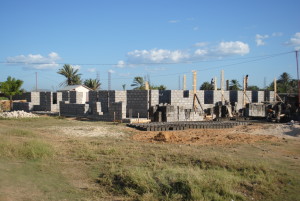 Latest news:  Thanksgiving Day 26th November 2015
Patsy writes:  "Happy Thanksgiving! We are grateful for the laying of the cornerstone for the women's center!"
Ground had been broken earlier this month:
The Women's Center will provide for:
Women's training in living the Christian life, Bible study, prayer, health education, teaching on subjects such as raising a family, contraception, hygiene etc.
Cottage industries:

craft items to sell via Fair Trade, local tourist shops and churches in USA, Mauritius and UK.
making of sanitary pads so that girls will not miss days at school, as currently happens

External kitchen, with water supply and cooking area
Internal space for refrigerator and freezer
Dining space during Diocesan conferences
---
September 2015 :  Todd took on this challenge to bring awareness of the many outstanding needs in the McGregors' Madagascar Ministry.  
——————–
Hi everyone,
We are so pleased to tell you that the team has made it to the summit, and they have already started to descend to the camp. By now they have probably already made it to the descending camp. The team has been fueled by the Lord and have really come together as a team to encourage others in SAMS Global Vision. We can't wait to hear more from them! We praise God for a successful ascent and what is to come for SAMS. Expect to hear from them yourselves soon if you haven't already.
Blessings,
Sarah Norris
SAMS-USA
Writer and Communications Specialist
——————–
Hi Everyone,
The team has completed day 3 of the climb. They climbed about 4-5 hours from 11,450' to a beautiful overnight camp which is at the base of a lava flow. Everyone is safe and healthy! They are at 13,580'. Here are some pictures from Guy Benton taken early today.